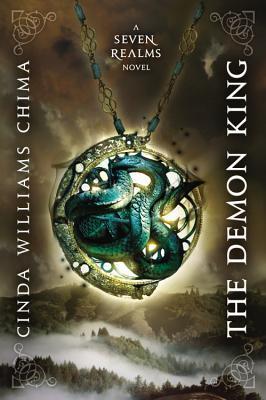 Times are hard in the mountain city of Fellsmarch. Reformed thief Han Alister will do almost anything to eke out a living for his family. The only thing of value he has is something he can't sell—the thick silver cuffs he's worn since birth. They're clearly magicked—as he grows, they grow, and he's never been able to get them off.

One day, Han and his clan friend, Dancer, confront three young wizards setting fire to the sacred mountain of Hanalea. Han takes an amulet from Micah Bayar, son of the High Wizard, to keep him from using it against them. Soon Han learns that the amulet has an evil history—it once belonged to the Demon King, the wizard who nearly destroyed the world a millennium ago. With a magical piece that powerful at stake, Han knows that the Bayars will stop at nothing to get it back.

Meanwhile, Raisa ana'Marianna, princess heir of the Fells, has her own battles to fight. She's just returned to court after three years of freedom in the mountains—riding, hunting, and working the famous clan markets. Raisa wants to be more than an ornament in a glittering cage. She aspires to be like Hanalea—the legendary warrior queen who killed the Demon King and saved the world. But her mother has other plans for her…

The Seven Realms tremble when the lives of Hans and Raisa collide, fanning the flames of the smoldering war between clans and wizards.
RATING: ⋆ ⋆ ⋆ ⋆ ⋆
So in my last review, I mentioned that my next book was supposed to be the sequel to Assassin's Heart, however, after trudging through about 70 pages I said screw it and gave up on the book. It's really hard to get into a book when you cannot stand the main character who is a whiny little bitch who doesn't use her brain. Considering the reviews I found on GoodReads, I'm not alone in my thinking. Instead, I switched gears to start reading the Seven Realms series by Cinda Williams Chima. I'll admit it's a bit slow going in the beginning, at least for me, in getting mentally invested in the story however the book does click for me.
As a librarian, one whose primary goals is to nurture a love of reading in other folks particularly our younger generations, I found one of the great things about the book is that it should appeal to both teens of both sexes. This book has a whole cast of characters with a handful being the main ones that you remain focused on. Sadly, in the book, there is only one female character out of several boys, but Raisa is such a strong character that you forgive the author and hope she adds a few more girls to help round things out. Although Raisa's not perfect, because she doesn't fully truly see Micah Bayer for what he is until the end of the book, which is a bully who may or may not have some hidden good points but bows down to family ambition and greed. However, Raisa does know she needs to know more than the traditional female skills and knowledge that'd you expect to see in a medieval-esque fantasy and she does truly want what's best for people and she knows that can only happen if she can see for herself or have people she can trust to tell her.
Han is a former street lord, who gave up the life and go the hard way of earning money for his mother and little sister, Mari. He spends time with the Clans, who from the way the books are written, makes me think they're based on Native Americans. Through them, he has learned other ways to earn money although it's not enough as being a street lord of the Raggers which is basically a gang/low-level mafia organization. His life changes when he runs into Micah Bayer who's playing around with an amulet, a tool needed by all wizards to store their excess magic and use to cast their spells and whatnots. The amulet, however, doesn't belong to Micah but his family who somehow got it from the Demon King, a legandary wizard who was said to force himself on a Gray Wolf Queen, but in reality they were in love but it all ruined because Queens aren't allowed to choose the ones they love and her one true love went to the dark side.
Anyways, seeing as I'm in the midst of book two when I'm not researching and working on my Capstone project, I'm not going to say any more about the book. Just know that it rather entertaining with all the elements one can hope for in a medieval fantasy, the magic, warfare, intrigue, political maneuvering etc.